Norfolk Bog Wood Carving​
I came across Norfolk bog wood through a friend of mine who was creating pieces of furniture. Together we went out in search of new materials, that's when I found my love for bog wood.
This particular type of wood has been preserved in peat bogs which halted the decaying process for thousands of years. From discovering this amazing material, I began to dry out the roots I had found and was able to carve into them.
I worked with the natural shape of the roots creating a central face of the green man or spirits and allowed the leaves to flow through the tangle of roots. These pieces are all innately unique as well as being perfectly preserved parts of Norfolk's history.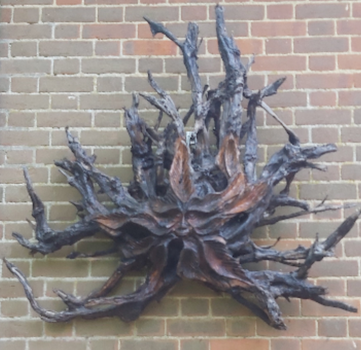 Fenland Wood Spirit

​When we found this big bog yew root we were so lucky! Due to there being a lot of agriculture in the area these roots are often destroyed by different agricultural machinery, so when we unearthed this it was a big surprise.
After hours of excavating I had it strapped to the roof of the truck, it was hanging off of the roof at all angles and it had dented the roof but it was worth it. This piece has to be the most stunning I have seen, and my favorite piece I've worked with.
As the nature of the piece is bogwood, it is not only a piece of art but also an example of Norfolk's long history.